Zen hobbies to make time for when life gets stressful
March 20, 2017
There are likely to be times in your life when your juggling proficiency is challenged and you feel more like the overworked and underpaid trapeze artists before circus unions became a thing. Stress is an inevitable side effect of the intense lifestyles we build for ourselves; we perpetually seek that utopian balance between a gross overload of work, study and social times. And let's face it, stress sucks; it fuels procrastination, hinders productivity, and casts a duller mood over the whole daily grind.
So wind your heart rate back to functional, and clear the scrawl-littered whiteboard of your mind with some hobbies that chase your inner Zen (beyond the ambiguity of meditation and all that it encompasses).
Origami
A hallmark of the peaceful Japanese culture, origami is where you fold something from a 2D square into something your mum might want to put on her fridge. Treat yourself to this activity only a few minutes at a time, taking your focus away from stress and onto the creation of something beautiful.
When you are crafting lilies or paper cranes, there's a definitive beginning and end to your mental vacation. Concentrating on fine motor skills can also be an excellent way of channelling the jitters, and after a week of being overworked you've got enough fodder for a pretty garland to hang from your doorway.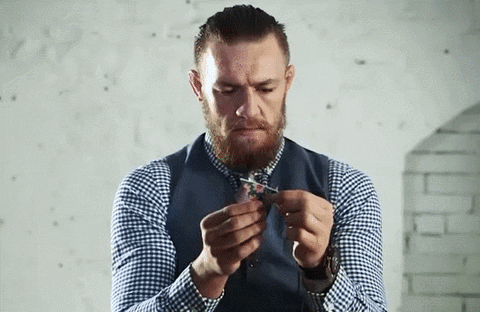 Become a plant parent
Keeping a plant alive can be so rewarding. Having a little more oxygen in the room can amp up any study space, so deck out your window sill with some pansies or an assortment of basil and parsley.
Not only will this make all your meals feel like a page torn from a Donna Hay magazine, but you can add #garnish to your nightly Instagram post of dinner for one. Invest in some foliage that is hardy, give it a name if you must, and get ready to give yourself a gold star for remembering to water Felix the Flower daily.
Play time
Know where your nearest public park is and don't be ashamed to take advantage of the ocean of endorphins that ten minutes on a swing will bring you. If you manage to drag along a partner, seesawing can be just as thrilling. You can thank me for your healthy Vitamin D levels later. Appy happy
Download some apps that offer brain-training/mindfulness/word games etc. If you're looking to catch your breath, please stay away from any games that are a race against the clock – it'll make you more of a sweaty mess than you were to begin with.
The oncoming of a panic attack doesn't need to be fuelled with another scroll down your Facebook feed, so try some orderly and simple Sudoku to occupy your bus-ride home instead.
Board-om
Board games: a source of escapism that mightn't be the same breed of sensory overload you find in a binge-watch of Jane the Virgin or Game of Thrones. Channel your focus into proving that it really was Mrs Peacock in the library with the wrench. You knew you never trusted her for a reason.
Have fun encroaching upon the ever-illusive concept of inner peace! You are now one step closer to getting through some nasty situations with a level head.
Bridget O'Brien
Bridget studies Classical Voice at the Queensland Conservatorium in Brisbane and is passionate about show-tunes, trivia nights and Robert de Niro playing bad guys.
Image: Giphy