Why you should skip a tour and plan your own trip
June 14, 2017
Travel tours seem great – you log on to a website and instantly someone plans the 'trip of a lifetime' for you. You watch the well-edited videos and flick through hundreds of breathtaking photos and instantly they've won you over.
When you're young and afraid of what foreign countries will be like, options like Busabout and Topdeck seems like the easiest way to have an unforgettable overseas holiday. But don't be fooled – you don't need the shiny bus and the full-time guide to have a safe and enjoyable trip.
I'm not saying you can't have fun on a tour, I did one when I was 18 and to be fair – it was OK. But, when I weighed up the pros and cons – I can't say I'd ever do one again. Here's why.
They're expensive
Tours are SO SPENNY. They draw you in with selling points like "free breakfast at most destinations", but in reality most hostels and hotels have free brekky anyway. Plus, the travel costs through the tours are huge – if you worked out your own buses, trains and ferries, I almost guarantee you'd come out on top.
You follow their plans
To be honest, nothing sounds worse to me than someone telling me what I can and can't do on holiday. Imagine wanting to go to an art gallery because you love an artist from the region you're in, but all of a sudden your guide is like "Nah fam we're going to a clog-making demonstration... IT'S IN THE ITINERARY!" Ditch the rigid plans and pick your own path.
There can be a lot of drama
Tours can feel like a jacked up version of high school where everyone's always drunk and horny. There will be boy drama, there will be friendship drama and there could even be drama about where you sit on the bus. Surround yourself with people you actually like – leave behind the drama queens and the fuckboys.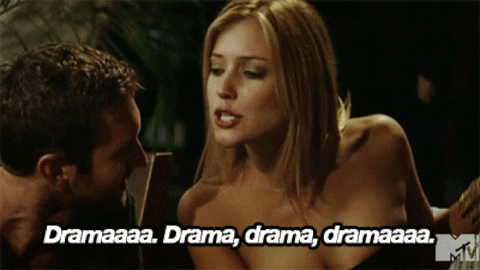 There's no escaping annoying travel lurkers
When you're travelling, there always seems to be that random person who appears out of nowhere and all of a sudden has visited every tourist destination with you and EUGH, you wish they'd leave you alone for a minute.
Well on tours they are always there... every morning... patting the bus seat next to them waiting to chew your ear off about what their dog at home is like, all while you're hungover as hell and craving a cheese toastie. Allow yourself a little quiet time on your own personalised holiday.
It's not a very authentic experience
If you want to visit the basic big attractions in 24 hours and then scoot off to the next destination, then a tour is for you. But, if you want to soak in your surroundings and discover some hidden gems, plan your own trip. Instead of having an English speaking (most likely Australian) tour guide show you around – challenge yourself and ask a local for some pointers. Obviously they know the best spots. And most importantly, if you're travelling on your own accord you can stay in the spots you love and leave the places you don't.
Tahlia Svingos
Tahlia is a media/journo student from the University of Adelaide. She probably wrote this in the bath.