Why third-year panic feels are completely normal
June 14, 2016
Heading into your third year of uni study means you probably only have a year and a half left to go and you're wondering 'what's next?' If you've started asking yourself this question, or had others ask you, chances are you're beginning to experience some real panic regarding your future. You're probably worried about finding a job, moving out (if you haven't already) and becoming a fully functioning adult.
The good news? This is completely normal, especially this far into your degree. Here's why.
It's OK not to have a plan just yet
One of the biggest things you're taught throughout high school is that you need to have a plan for uni, and then a plan for when you graduate. So chances are you're still figuring out what your game plan is and a lack of one is causing you to panic.
But not having a plan at this stage is completely normal, because while you're close to finishing your degree, you still have a lot to learn and once you learn it all, then you'll have a plan. Right?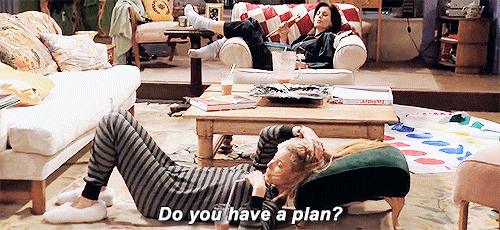 Don't know exactly what you want to do? That's OK too
Whether you're studying law, communications, medicine or something completely different, it's likely you're still unsure what it is that you want to do with your degree.
All the different possibilities can make you panic and think that if you make the wrong choice you'll regret your decision forever. But this is actually a good thing, because the possibilities are endless and this means you don't have to stick to one career path.
There's nothing wrong with still having a long uni bucket list
Not only are you still figuring out what you want to do once you've graduated, but you probably still have a lot of things left to do that you haven't already.
Whether it's saving more money, moving out, or travelling, there's nothing wrong with having a few things left on your bucket list before graduating – this just means that you can completely focus on your career.
You're probably feeling unaccomplished and as though you've completely wasted your 20s, but in reality it just means you still have things to look forward to.

You're still growing up
Being in your third year of uni means you're likely in you early 20s and still incredibly young. Therefore the idea of finally finishing your studies and having to enter the 'real world' can be confronting.
Not only that, but you're starting to realise that you'll no longer have the comfort of being a uni student to fall back on all the time. Whether it's not getting the job you wanted or just going out partying all the time, you're starting to see that soon enough you'll have to take on a whole new set of responsibilities and you're starting to stress over how different your life will become.
Every student experiences third-year panic
The main reason third-year panic feels are completely normal, however, is that most students will experience them at one point or another.
Whether it's not having a plan, not knowing exactly what you want to do next, or simply freaking out over growing up, those end-of-degree panic feels are completely normal and justified. After all, it's the next step into adulthood and you'd probably be going against the norm if you weren't freaking out a little.
Natalie Cupac
Natalie is a Journalism and International Studies student currently working for The Business Woman Media, with previous experience working for Pacific Magazines.