What you should do when you get a bad grade
May 09, 2017
We all know that sense of pure relief when you get to submit an assignment, signifying the end of the all-nighters and frantic group chats (for now). Unfortunately, pretty much everyone will know that unmistakable sense of disappointment when the results come back and it's not what you wanted. Here are just a few tips of what to do when you get a not-so-good grade.
Pour yourself a wine
The number one thing to do when you get a bad grade is to just sit down, relax and let it sink in. Of course you're going to be a little upset; if you're anything like me, you'll have spent weeks working on this single piece of work, making sure every comma and period was in the right spot for your references, ensuring that you definitely put it in 12 point Times New Roman double-spaced (because your tutor told you to 50 million times). You've probably turned down the odd social event to be able to fit all of your study in and you are most likely a little sad that the result didn't reflect all the hard work you put in.
No matter what grade you were hoping for, this was less, and it's OK to be less than content with that. But angry emails or hysterical calls home are not going to help too much in this situation. So pour yourself a glass of wine, run yourself a nice warm bubble bath, de-stress a little bit and then move on.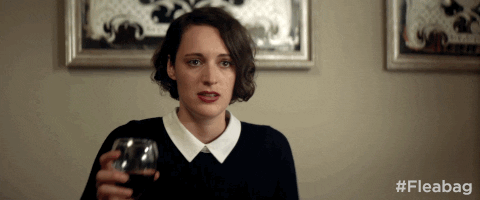 Read the feedback
I know – the last thing you want to do is reopen that dreaded assignment, but your tutor will generally provide some level of feedback to justify their grading. Take the time to go through the feedback section by section and take on board what your tutor is trying to tell you. Even though you think your referencing was flawless, was it in the right style? How well did you actually analyse the text, or was your essay more of a discussion? Were there typos? Sometimes we overlook flaws in our own work, and our tutors are able to give us objective feedback so we can do better next time.
While all the comments and feedback may seem totally harsh, try to use it to understand why they reduced your overall grade and see if there's a way you can implement their feedback into your next assignment.
Email the tutor
Even though uni is about independent learning, you're still allowed to talk to your tutor when you need. If you have gone through their feedback and you're still not comfortable with your mark, why not send a quick email and ask for some clarification, or better yet, to set up a face-to-face meeting? They may not be as scary as you think, and they will probably help you understand your mark a bit better. If you still aren't happy, you could request to get your grade reassessed, but check your uni's policy on this one.
Remember: Ps get degrees
My cousin gave me the best advice when I first started uni. Even though you want to do the best you can, Ps get degrees. While you might want to keep that High Distinction streak running for the entirety of your degree, the odd Pass or Credit really won't destroy your future. At the end of the day, you just have to pass, so there's no point worrying yourself too much about the odd bad grade.
Here's to better grades next semester.
Chloe Waddell
Chloe is an arts student at The University of Melbourne, as well as film lover, volunteering addict and pole fitness enthusiast.
Image: Giphy