The Week That Was: Brandis, Turkey and ducks
August 01, 2014
Australia is clearly worried about encountering its own version of Edward Snowden. This week, Attorney-General George Brandis detailed new national security provisions in the parliament. According to The Guardian's report, what the new legislation basically means is less freedom of speech and of the press. Publishing or disclosing information that interferes with "special intelligence operations" can now be punished by five years in prison.
These terms will likely be stretched as far as possible, so would-be whistleblowers and journos keen to publicise classified information will be carefully watched. So who decides who counts as an offender? Well, the Attorney-General has full authority to deem any person guilty – he's the man who will make the final call on people who are threatening the integrity of Australia's surveillance apparatus. That's what this is all about: protecting the secrecy of government intel.
For Brandis' department, these measures and provisions will fill the gaps that have been exposed through whistleblowing in the past. In other words, they're shitting themselves at the prospect that Australia's home-grown version of Snowden could emerge at the worst of political times.
Brandis made more news in this week's column, but for something very different to the concerns of the nation's surveillance – he wants a review of Australian opera. In a press release put out on Thursday, Brandis said that the review will analyse the artistic vibrancy, engagement with audiences and financial position of Australian opera. Wait. The artistic vibrancy? What for? It seems as though opera's getting a little picked on here. Since when has there ever been an issue with the health of opera, anyway?


As reported by The Australian, the review will be conducted by a three-member panel headed by Helen Nugent, who's a pretty prominent businesswoman, academic and an independent director of a plethora of companies. For opera's sake, it ought to be doing a good job of artistically injecting vibrancy into the veins of its audience…or else.
Moving to news offshore, Turkey's Deputy Prime Minister has told the women of that country that they shouldn't laugh in public in order to preserve their modesty, says The Independent. Hearing this surely swiftly makes the hairs on the back of Westerners' necks stand up, but for an overtly religious nation like Turkey a call like this doesn't come as a surprise.
However, the Deputy PM's comments have sparked outrage among Turkish women, who are sticking it to the man via social media. As you can see in a series of tweets compiled by The Week, Turkish women have been taking photos of themselves laughing and smiling in public to show that they aren't buying into the government's sentiments. The Turkish government shouldn't be putting in effort to demonise its women for publically displaying their happiness – it needs their merriment more than ever.
Good news surfaced this week as the Australian authorities deployed to the MH17 crash site finally made it there safely and began their investigation, according to a report by The Age. Police and forensic experts said it is unclear how many bodies remain. The condition of the bodies is also unknown, given their consistent exposure to the elements. Their identification and retrieval will no doubt be a gruelling process.
Foreign Minister Julie Bishop tweeted on Thursday: "Great news as Dutch-Aussie advance-party of experts have just made it on to #MH17 crash site. At last work begins to bring our people home." Sadly, though, fighting continues near the crash site, so the safety of authorities is a grave concern. All that's to be wished for is a successful operation and a safe homecoming.
To some weird news now: you should think twice next time you're feeding ducks because they might bite the shit out of you. According to a very peculiar, succinct report by The Sydney Morning Herald, a duck has bitten a young Sydney girl in her home.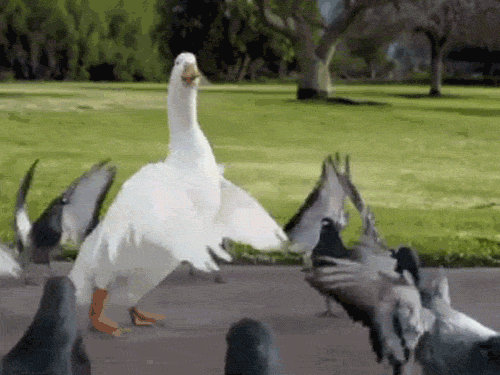 Relax, it wasn't that bad. She was treated by paramedics shortly after the incident, and probably proceeded to soak the duck's lunch in rum for LOLs as payback. Well, that's what I would've done.
Nathan Stanogias
Nathan Stanogias is a contributor at 3W News and Melbourne Forum. He is Hijacked's news and politics columnist and former editor of student publication Catalyst. Nathan blogs at PeaPee.com.
Image: CeBIT Australia on Flickr Creative Commons.