The unwritten rules of dating etiquette at uni
April 07, 2017
Dating while you're at university is a pretty unique experience, particularly if you meet someone at uni. If you've had a classmate turn into a flirting situation and then into a drunken-kiss-at-a-uni-party situation, these are the unwritten rules of etiquette you need to know about if you start dating.
Disclose your exchange plans
You might be in first year, happily enjoying your new found freedom and dating status. If you know that you'll be going on exchange for six months or a year in your second or third year, it's best to disclose it straight away. If this is a relationship that lasts, you don't want to drop that bomb on them later. Let them know now to avoid the drama. If they don't think they could ever do long distance, then you've just saved yourself a lot of time.
Avoid PDA in tutorials
We get it, your newfound love makes you all giddy. We'll even accept you holding hands and PG kisses on campus. But PDA in lectures and tutorials is an absolute no. It's distracting and honestly, can't you keep your hands to yourself for one whole hour? Is that so hard to ask? You might think holding hands in class makes you the ultimate class power couple, but tbh no one cares.
…or couple fights
That's just awkward. Save the domestic until after class. Also super distracting.
Beware the society incest
Societies are a great way to make friends, so it makes sense that they're also the place where many uni couples have formed. Maybe you hooked up at Law Camp (or enter your society's fun into activity here) and things didn't work out, so you get with someone else on the Law Cruise. By the time Law Ball rolls around, everyone's hooked up with everyone and it's just one big awkward situation. There'll then be someone who's off limits or there'll be drama. Best to avoid that mess altogether.
Dates on campus don't count
If you've been in a flirting situation with someone in your tute or a group assignment member, you're probs wondering how to take that relationship beyon the classroom. If one of you works up the nerve to ask the other one out, it's probably the sage move of coffee at a uni cafe or a drink at the uni bar. As much as it might feel like a date, you can bet you'll still be asking yourself"Is this just a friends catch up?!" It's not until you have a catch up out of uni that you can be more certain that it's a date.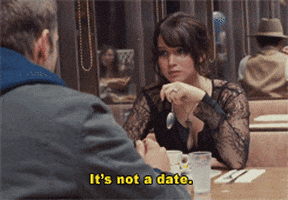 On that note, if you're dating someone, don't let them get away with calling a drink at the uni bar or a study sesh at the library a "date".