The five stages of when your friend leaves you for Europe
June 21, 2017
We've all had our BFF desert us for that European sun during winter break; they shower us with the gorgeous tans, delicious food and hot European flings, which definitely tops anything we have going on back home. So if you're BFF is deserting you for the winter to escape to Europe, here are five stages you're most likely going to experience.
Before they leave
You don't want them to leave so you try to convince them to stay, but knowing that will fail, you move on to getting excited with them. You give them all your wisdom on travelling you've picked up through your own travel experiences or from what you've heard and throw in a few lines like "Can you pack me in your suitcase please!" or "Did you want to buy me a ticket too?"
You help throw them a going away party or casual drinks so you can soak up as much time as you possibly can with them before they leave and when the time finally comes, you make a few more thousand attempts to make them stay before giving them a big hug and a bon voyage!
Then they're gone
It's literally only been a few hours since you said your farewells, but it feels like a lifetime since you saw them. You decide to make yourself really busy for the first couple of days/weeks so you don't miss them too much but then their Instagrams start flooding in and you're totally fine with how much fun they're having and not jealous at all… Well, maybe like 98 per cent happy and 2 per cent jealous.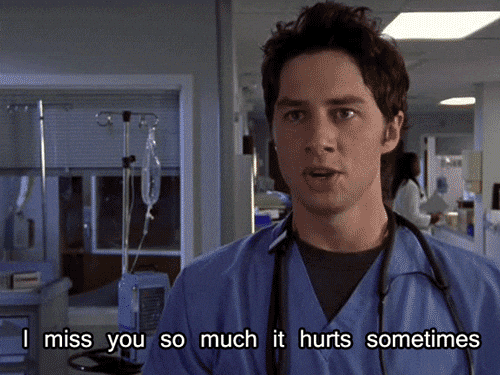 You don't hear from them for a couple of days
You don't hear from them for a couple of days and it terrifies you. You're constantly checking their FB status and monitoring when they were last online and thinking of all the things they could be doing at that very moment. Half the time they're probably sleeping because of the time difference.
You also start to write them long one-sided messages, keeping them up to date with your life, finishing it off with asking them what they have been up too, knowing full well it's probably going to top whatever you've been up to back home. Whenever you're with the rest of your friends, you send snapchats to your BFF, to let them know you're all missing them!
They're alive! And they finally contact you back
They finally respond to your half a dozen messages and they waste no time in filling you in on all the important stuff like the cute guy they met, or the amazing lunch they just had. You'll most likely have one or two Skype sessions that will last only a couple of hours, as you discuss their trip and you fill them in on all the important gossip that's been happening back home.
They return!
They've finally returned! What felt like forever (especially in the last few weeks when you were counting down the days until they were back) has suddenly all melted away as if no time had passed at all.
You still spend hours talking about every single moment that has happened since they left and share stories and photos. Even though your best friend has travelled all over the world and made so many new amazing memories and experienced so much, you always know that your BFF will always come back to you! And nothing will have changed… well except for that hot European fling they brought back…
Monique Taylor
Monique is studying a Bachelor of Media with PR & Advertising at UNSW. She is a lover of animals, chocolate and is a travel enthusiast.