The five stages of being unemployed
July 05, 2017
If you've recently graduated and you're on the search for your first full-time gig, the search might be a little delayed in favour of the glorious summer holidays. Let's face it – you've earned it after a hard few years at uni. It makes sense if you put off job searching for a little while longer while you have some well-deserved catch ups with friends and lazy Netflix days. But the fun times won't last forever fam – these are the all the stages you'll go through post-uni, pre-real world.
The liberating feeling of so much free time
For the first month or two after that very last exam, you'll be still on a high from that 'finished uni forever' buzz. You can do all the things you wanted to do all semester but never had the time to – beach days, aimless days lazing by the pool and all the mini road trips and adventures, just because you can. You start to consider job applications, but you figure you might as well give yourself the usual uni semester break of three months to fully recover and recharge. You continue to have fun days off with fellow funemployed friends and make fun of the friends who have to set their alarms for summer school or work.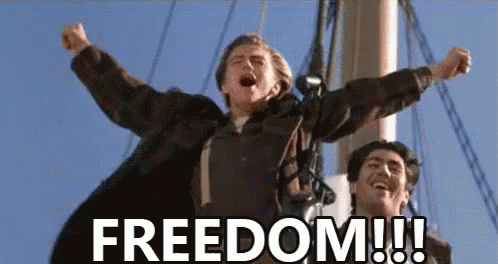 The novelty begins to wear off into boredom
When you're at uni, the endless procrastination would lead you to believe that you could never get bored of doing nothing. But there will come a time when you become so bored that you'll be wishing for readings. When all your friends are back at work/uni/internships/doing anything of value, you won't have anyone to join you on your fun jaunts out. Plus, your limited amount of savings will only get you so far before you realise you have to cut back. You'll eventually start to feel a bit aimless without a plan or any structure to your days. This is when the carefree days of funemployment end and the panic sets in.
Enter existential crisis mode
This is the time you'll start to question all your life choices and decisions that led you to funemployment. Existential crisis mode will be followed by research mode where you look into all the alternative degrees and career paths that you decide on a whim you should be doing instead. If anyone in your life tries to push you along or ask how you're going, your response will most likely be an emotional breakdown.
When job hunting becomes your full-time job
When you've realised that having a break forever when you're broke AF isn't for you, that's when you'll be kicking your gears into motion to start that job search. But with so many cover letters to write and jobs to find, you'll feel like you're back at uni again, holed up in your bedroom for hours on end glued to your laptop. You will probs refresh your emails a hundred times a day and fall back into the cycle of boredom from all the repetitive tasks.
When you finally get hired, you'll get the feeling that time is fleeting
Once you finally land that interview that gets you a full-time gig, the celebration might be a little bittersweet. With only T-minus a week or two until the big first day, it's not enough time to do all the things you wanted to do before starting a proper job. You may have wanted to go on one last student adventure before you entered the real world or maybe you had a to-do summer list that got neglected amongst all the job searching. This stage of funemployment is the most fleeting, so make the most of it while you can!
Image: Happy Endings