Ten things only uni students will understand
July 07, 2017
No matter where you're studying or what course you're in, all uni students are united over their povo student status, love of free food and frustration towards overly bureaucratic uni administration. If you've been a student for at least a semester, these are the feels you'll understand.
Getting the perfect timetable is impossible when the system crashes every. fucking. year.
Every year, you suss out class times and come up with the world's best timetable – all your classes squeezed into one or two days. When it's time to enrol in your classes, you'll be refreshing the page with T minus one minute to go, only for it to completely crash and stop working. Every year this happens and you get stuck with 8am classes with six hour gaps and a compulsory tutorial on a Friday afternoon. Urg.
The weather plays a big part in whether you actually go to class
Australian weather is pretty temperamental, much like your attitude towards attending class. When it's a beautiful summer day, you ask yourself how you could possibly stay in class on a day like this and head to the beach instead. On the cold winter days or, let's face it, any day with slightly extreme weather, that's a good enough reason for you to stay inside.
You don't remember your class work, but you remember useless facts for pub trivia
Pub trivia is a student staple – it provides entertainment, bonding with your uni mates and not to mention a (hopefully discounted) schnitty and schooner. Sure, you can't remember those business principles, but you'll defs know the origins of the Salt Bae meme.
Buying textbooks is a thing only first years do
After your first year, you start to ignore the word "compulsory", or know the wiser move is to borrow it from the library or buy it cheaper second-hand (or hopefully free from a friend).
…as is O-Week and wearing uni merchandise
Much like buying textbooks, your O-Week days and uni jumper-wearing days will end after your first semester. The only uni merchandise that is maybe acceptable is a uni jumper from an overseas uni you went on exchange to. And the only acceptable reason for attending O-Week after your first year is for free shit.
In your opinion, student cards should be valid everywhere
Once you got your taste of that first ASOS student discount (where money magically disappeared from your shopping basket), you now feel entitled to that discount everywhere you go. And you can often get a discount just about anywhere – movies, public transport, museums, you name it. You'll ask everywhere and when that one place doesn't have a student discount, you'll take your business elsewhere.
July is prime travel time
Typically four to six weeks in the middle of the year, the mid-year break is the perfect time to travel. Why wouldn't you head off abroad when you the chance to escape winter and head on over to the rest of the world celebrating hot summer weather? Planning a mid-year trip is what every student needs to get them through semester one (and give them serious post-travel blues in semester two).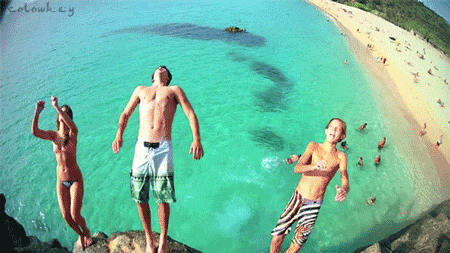 Surviving a class after too many drinks at the uni bar is a rite of passage
We've all been there, heading to the uni bar because there was a couple of hours to kill between classes, drinking a little more than intended. Heading to class and pretending to be sober is a skill that only uni students have down pat.
Campuses will continue to be confusing AF, even in your final year
Your first year of uni isn't the only year you get a bit lost on campus. You'll still be bewildered in your final year of uni when you rock up to class and the numbers on the class rooms don't actually follow each other in the logical sense. Room 22 next to room 41? Sure, why not.
Leaving class early is acceptable if it involves free food
You've got it down pat; you know what day to skip breakfast for the free breaky on campus and you know where to find a free sausage sandwich any given day of the week. As soon as your squad hears about free food, you'll be the first to know about.