Ten films that'll get you in the mood to go back to uni
February 21, 2017
The countdown for sem one is well on its way, so let's be proactive about this and continue Netflixing (or illegally downloading) films. If you can't be effed to do uni prep, these school-based films will at least get you thinking about the new semester coming in hot in less than a month.
Whiplash
Looking for an epic alternative film? Then get a load of Whiplash. Heads up on the small *spoiler alert*, apart from the dickhead conductor/mentor who will make you want to throw your phone at him, Whiplash is just an incredibly well-written and gripping film. It's one to watch both for its raw emotions and second for its expression of music.
Legally Blonde
Without a doubt, Legally Blonde just ticks all the boxes:
Got into an impossible degree at an impossible university? Check.
Adorable dog? Check.
Loads of sass? Check.
Fuckboys? Check.
Internship? Check.
Inevitable happy and satisfying ending? Check.
The list goes on, so it's no wonder why many of us keep turning to the iconic Elle Woods when we need a rather large dosage of comical inspiration.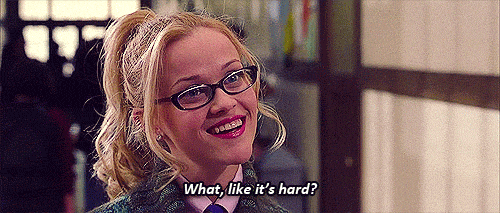 Stand and Deliver
The name itself is something you've probably heard in context of a presentation but the film's a little different. An oldie but a goldie, Stand and Deliver tells the story of a high school maths teacher, Jamie Escalante, who works with struggling students who have loads of potential, but have never been able to show it. It may sound incredibly cheesy but it's a heart-warming film for many reasons – but mostly because it reminds you of those inspirational tutors and lecturers that keep you going.
Dead Poets Society
Just watch it. It'll break your heart and mend it all at once.
And also Robin Williams.
The Harry Potter series
Even though it's aimed at children, many of J.K Rowling's masterpieces include elements that apply to university life, like finding out you're super famous for surviving a murder attempt by a serial murderer. But in all seriousness, the friendship between Harry, Ron, and Hermione will get you thinking of the good times you've had with your own mates and all the mad antics you're bound to get up to when you're back on campus.
Monsters University
For the Pixar lovers, Monster University is a super chill way to embrace all the uni feels, especially the love-to-hate O-Week. And even though it's an American college and we won't be able to relate to the infamous fraternity struggles, we do all know what it's like to try and fit in and be someone in our first few weeks of university.
Also, the Roar Omega Roar Fraternity is just too much of an adorable name to not watch it.
Boyhood
If anything, you need to watch Boyhood because it depicts the life of Mason Evans Junior played by Ellar Coltrane over eleven years, literally. Filmed from 2002 to 2013, it's the very best and very worst of childhood, adolescence and life all in one with no change of actor during the changing periods. There are no huge moments like in an action film – Boyhood's just about life.
Starter for 10
A very young Benedict Cumberbatch is in it as one helluva stuck-up dude but still, it's Benedict Cumberbatch. But anyway, Starter for 10 is perfect for an upcoming first-year with the holy trinity of feelings, pressure and study.
Accepted
Last but not least is Accepted and no this is not some sort of super emotive or inspirational film. It's your classic raucous American film (because sometimes we feel like watching one) where after being rejected from all colleges, Bartleby Gaines opens his own university. Yep, you read that right. Justin Long and Jonah Hill are in this if that's any clue of what to expect.
Steffanie Tan
Steffanie is studying a Bachelor of Journalism at Monash University and is horrible at bios and that is all that needs to be said.