Six things no one tells you about finishing uni
April 28, 2017
When you start your first semester of your degree, you have to sit through hours of lectures and workshops introducing you to uni life. What uni fails to do is prepare you for those months after you finish. That fun and awkward time in your life when you're transitioning between being a student and being a real-world citizen of society. Here are six things to help prepare you for this awkward transition of your life no one talks about.
There are no rainbows and fireworks
Handing in your last assignment or walking out of your final exam is one of the most anticlimactic moments of your life. While I imagined it to be something like that scene in 500 Days of Summer when he's walking down the road and everything turns into one big cabaret, it was actually far less dramatic. Submitting my assignment online, with one click of a mouse I was finished with my degree, just like that, carrying on with my life as usual.
You start to get an overwhelming sense of needing to start your career
As time ticks on, life moves forward and you're still stuck in your shitty retail or hospitality job, you start to be filled with an overwhelming sense of panic. Your heart is a few paces faster and the anxiety still hasn't left, even though there are no more deadlines. So what do you do? You troll career pages and sign up for every notification related to your degree.
You have a lot of spare time
You notice this mostly when the new semester rolls around, and all of a sudden everyone else around you is buying stationary and complaining about their shitty timetable. When you try and get coffee with your friends, they're all stressed about overdue assignments. Meanwhile you're up-to-date with every new episode of every TV show on Netflix.

You realise why additional study was invented
There comes a time in almost every graduate's life when they have the slight freak out about being off on their own. Thoughts like 'I don't know anything!' and 'I'm not ready for this!' ran through my head daily. You start reminiscing on your days at uni with rose-coloured glasses and all of a sudden it didn't seem so bad after all. Heck, maybe you even miss it. Next thing you know you're researching honours and master's degrees, understanding now why they're so popular. Real life is overrated anyway, right?
People increase their questioning of your next career move
If you've ever had questions about this from family friends and relatives before, just you wait. They really bring the questions up a notch when you've finished uni and suddenly you care that you don't have a good answer. I even took to hiding in my room when question-prone family members appeared at our front door. On the flip side, when you finally have a good answer, you feel like shouting it from the rooftops.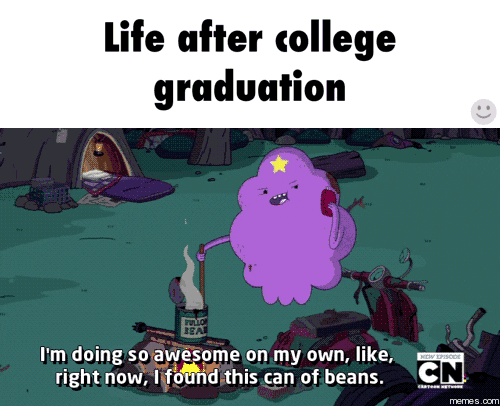 You start to stalk everyone from your graduating class on social media
You find yourself becoming quite competitive with what your classmates are now doing. Suddenly when they update their jobs on Facebook you care, because you also applied for that job. It becomes a silent standoff between everyone, slowly dropping off and snagging the jobs you spent hours and hours writing the cover letter for. Then, one day, it's your turn, and you take so much pride in that Facebook update.
Hannah Altschwager
Hannah is a recently graduated journalist from Adelaide. She's a coffee enthusiast who enjoys nights in with peppermint tea and bed socks.