Quotes to read rn if you're freaking out about your future
March 29, 2017
If you're an almost-graduated twenty-something about to enter the big bad world of adulthood, chances are you're scared shitless about life after uni. It's OK, it's totally normal.
So, to help ease your pain and take some of the pressure off, here's a list of quotes from some of the best, most badass adults (both real and fictional), that will hopefully make you feel better about your future.
"Sometimes you gotta work a little so you can ball a lot." – Tom Haverford
Breaking into the workforce these days is no easy task, with entry level jobs requiring a degree, three years of experience, and detailed directions to the Lost City of Atlantis in order to get your foot in the door.
It's an unfair reality of being a twenty-something, but it's worth putting in the time to get those HDs or stick it out in an unpaid internship to make your future a lot less daunting and help you secure your dream job later in life.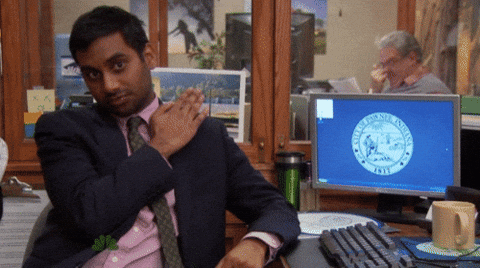 "The best way to not feel hopeless is to get up and do something." – Barack Obama
From the wise words of the former POTUS himself, the easiest way to stop feeling like an unprepared potato with an undergrad degree in one hand and booze in the other is to do something.
Get an internship, start volunteering, consider postgraduate study, or start working in a field that will get you closer to your dream job. There's no time like the present to stop procrastinating and start kicking those life goals you keep talking about.
"Becoming yourself is really hard and confusing, and it's a process." – Emma Watson
It's an unrealistic myth that you're supposed to have your life totally figured out by the time you finish high school or even university. It's okay if you've changed your degree multiple times to find the thing that really interests you, or you're stuck in a job you hate right now because the archaeology field isn't hiring.
Finding the path that fits you best is a process that takes lots of patience and hard work, but you'll get to where you want to be in the end. Trust Hermione. She knows what's up.
"Remembering that you are going to die is the best way I know to avoid the trap of thinking you have something to lose." – Steve Jobs
A little morbid, I know, but the guy who brought us the tech we rely on obviously knows his shit. If you're worried your transcript won't get you the job you want, apply for it anyway. If you want to travel but you're scared it will set you back in your career, book that plane ticket.
You have absolutely nothing to lose and everything to gain from putting yourself out there. Your future isn't going anywhere (as much as you may want it to right now), and there's very few things you can do that will completely fuck it up.
"We have to remember what's important in life: friends, waffles, and work. Or waffles, friends, work. But work has to come third." – Leslie Knope
No matter how focused you are on your grades and future job right now, or how worried you are that you won't achieve all the things you've set out to do, it's important to remember that your career isn't the be-all and end-all of your entire existence.
Spend time with your family, eat gloriously unhealthy food, be a decent human being, keep partying with your friends, get involved in your community, help others and enjoy the little things about being a twenty-something while you can.
Penny Robinson
Penny is a Philosophy and Media and Communications student at the University of Melbourne. She enjoys travelling, snacking, and not going to the gym.