Nine travel hacks you need to know if you're going on a tour
February 13, 2017
If you want to go on the trip of a lifetime but don't want to have to stress about the organisation, you might be considering travel tours like Contiki, Busabout or Topdeck. Before you sign up to any of them, here are a few hacks and tips you'll need to know to make your tour cheap, easy and stress free. Happy travelling!
Food, glorious food
Skip the expansive café and restaurant food your tour recommends and head to a farmers market instead. You'll be guaranteed fresh food and baked goods and you can hoard them in your hotel room for later. Street food is also the tastiest and cheapest way to get a local meal, and it's a good opportunity to try new things!
Water you thinking?
Bring an empty water bottle to the airport and keep it in your carry-on luggage. Take it on your travels and save spending money on bottled water by refilling your own.
Living out of the suitcase
If you're going on a tour where you're jumping from city to city in a matter of days, then it's not a good idea to be unpacking your whole suitcase every time you settle in you hotel. Not only will it take you ages to repack when you could be out exploring, you won't ever lose anything because it's all in one place.
Pack hack
Rolling instead of folding your clothes reduces wrinkles and gives you more room in your bag. Another tip to reduce wrinkles is to pack your T-shirts inside out. Master the art of stuffing and packing by shoving your underwear, socks, scarves (or anything that will fit) into your shoes. Just make sure that they are relatively clean, or your underwear will smell of foot sweat *retch*.
Bag it
Take an extra plastic bag with you to separate the dirty/wet clothes from the clean ones. You don't want to be wondering if you've worn the same underwear three times already because you keep throwing them back into your suitcase.
Budget your trips
Catching the train and bus to your fabulous destinations will start to rack up a lot of money. If it's possible, put on your comfy shoes and go for a walk, or better yet, ride a bike to your destination. Contiki offers a Europe tour on a budget, where you can see the same sights but can stay in hostels, cabins and budget hotels. If you don't want to be shit-broke when you get back from your European adventure, this tour may be for you.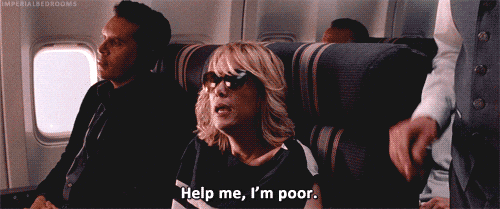 Let's talk outfits
You don't need to take ten different jackets when all you really need is one: the ol' reliable denim jacket. It goes with everything, it's perfect for all seasons and you can dress it up or down. A solid colour dress is also something you can style in so many ways. Whether you're shopping in Greece or on a gondola ride in Venice, it is the perfect go-to outfit for everyday wear. You really only need two pairs of shoes and that's the sneakers and the sandals. Shoes take up a lot of packing space so I know it hurts ladies, but you won't be needing the sparkly stilettoes.
Cash money
Exchange your money for the local currency before you arrive at your destination. You can even do this at the airport while you're waiting. This saves time trying to find an ATM and waiting in the queue of tourists to get cash out for a taxi to your hotel at 2am.
Get online
Take a photo of your passport, flight ticket and insurance details and compile an email with your hotel and flight details so everything is all in one place. If you happen to lose your passport (God forbid) at least you have a digital copy so you're not completely fucked (although you still kind of are). We know tours get wild, just don't lose your passport kids.
Sophie Nicolas
Sophie is currently studying a Bachelor of Arts and is an aspiring writer, dog enthusiast and thrift shop fashion icon.
Image: Giphy