How to make the transition from uni life to an adult job way easier
April 18, 2017
It's that time of year: final-year panic is in full swing and you've just realised you're halfway through your last semester one ever (internal screaming intensifies). What are you going to do with your life? You're so not ready to transition into full-time work. Just think of the naps you won't be able to have!
Fear not, fellow final-year student, for I have assembled your comprehensive guide to making sure your transition from the humble student life to an adult job is not as existential-crisis-inducing as it definitely could be.
Skill-up on anything you think your degree hasn't covered
If you're anywhere above your second year of uni, you might be starting to notice that a few of the skills you need to get your foot in the door in your chosen field aren't exactly covered by your degree – or well, at least not comprehensively.
If you really want to get ahead post-graduation, the best thing you can do is start taking it upon yourself to learn those skills your courses just won't teach you. Online resources like Lynda.com (which many unis provide free access to) and even YouTube are a great place to start skilling-up. You never know which non-degree skill might make the difference between you scoring your dream job or not.
Start applying for jobs now to get your name on the radar
I hate to burst your bubble, guys, but no one is going to offer you a job unless you're actively out there seeking one. I know, I know, it's such a bummer. But you can totally combat this sad reality by starting to let your industry contacts know as soon as possible in your final year that you're ready and willing to be the next best addition to their team.
Any place you've interned for or are currently interning for should obviously be your first point of contact, but you could even just try to reaching out to different companies you're sure you'd like to work at. Hey, the worst thing they're going to do is say no. But who could resist your earnest email detailing how awesome you think they are.
Pick the brains of your friends who have already graduated
Experience is the best teacher, so why not take advantage of those poor souls who have gone before and pick their brains on the best way you can transition from dat #studentlyf to being a proper grown up? Schedule a coffee date with a friend who has successfully broken into the industry that you want to get into and figure out how you can get there too, or even just ask for some tips on making the transition that little bit easier. If all else fails, get back in touch with a mentor or manager from a previous internship and seek their advice on how you can best prepare yourself for the imminent leap of faith. Email is a wonderful thing, my friends.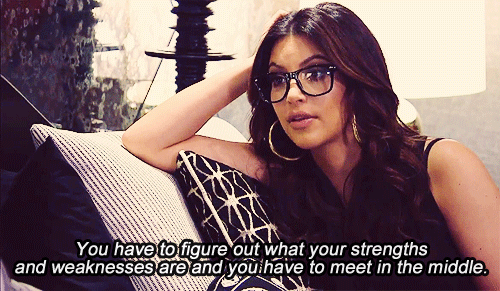 Start looking outside of uni for social interaction
It's pretty easy to get caught up in the identity and social life of being a student. After all, you've considered yourself one for at least the last 15 years of your life. But half of the struggles that come with leaving uni life behind come from the fact that soon you'll be on an entirely different plane of existence and your student friends will struggle to relate.
By having friends outside of uni, you're able to mix both chapters of your life without feeling like you're leaving your old squad behind. Instead, just think of yourself as becoming the friend who is a totally swanky, proper grown up now and is ready to bless the masses with expert advice. You go, Glen Coco.
Shannon Coward
Shannon Coward is a fourth year Bachelor of Journalism and Bachelor of Arts student at the University of Queensland. She enjoys period dramas, doughnuts and a good nap.