Four ways you can overcome your pre-travel anxiety
June 13, 2017
Everyone talks about how amazing travel is, but no one seems to talk about the fact that first-time travel can be scary. Maybe it's your first overseas trip ever, your first trip without your family, your first trip going completely solo or your first time living overseas. Sure, you might still be excited for it, but in the weeks leading up the nerves may also hit when you just don't know what to expect. If you're experiencing pre-travel anxiety in the lead up to mid-year break, here's some tactics on how to overcome it.
Get researching
Chances are if you're worried, it might be because you're unprepared. If you're worried about a language barrier, download a simple language app like Duolingo and start nailing the basics you might need to know. If you're worried about getting from the airport to your accommodation or public transport in general, get online and start planning before you leave.
You don't need to have strict plans of what you're doing every hour of every day, but having a general plan of things to do and how to get there will ease your mind a little and save you from wasting time when you get there.
Talk to other travellers
If you have friends and family who have been to the places you're visiting, get all the advice you can from them. They'll not only have the insider knowledge on where to go and what to see, but they can also serve as a guide on what not to do if you want to avoid any issues. Talking to someone who's done it all before will remind you it's not that scary and will get you excited when you hear about all the adventures they got up to.
Be prepared for any worst case scenarios
Although talking to other travellers will give you the peace of mind that those worst case scenarios probably won't happen, it's still better to be prepared. Don't book a trip without travel insurance – it's a minimal cost and will be 100 per cent worth it in the event something does go wrong overseas.
Register your travels with Smart Traveller and subscribe to alerts in case there are any warnings or travel advice for the country you're visiting. Depending on where you're going, it might be wise to bring a money belt and no matter where you're going, make sure you've packed a first aid kit .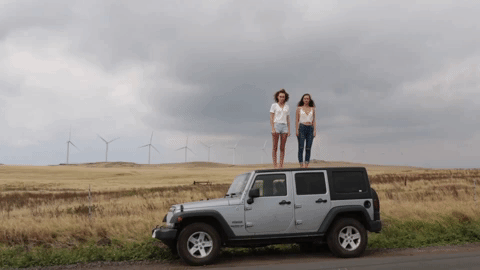 Figure out your fears so you can conquer them
If you're still worried after checking off all of the above, figure out what it is about travel that's making you anxious. If it's a fear of flying, it might be time to try meditation and mindfulness in the lead up to your flight. If you're travelling solo and you're worried you won't meet anyone, be sure to book accommodation like hostels that host social events or sign up for a tour like Contiki.
If you're worried about money, set yourself a budget and make sure you're aware of how much you can spend per day (including a conversion rate) so you don't unexpectedly run out of money. At the end of the day everyone's right to talk about the positives of travel – if you conquer your fears, it will be amazing.