Five signs you're actually a proper adult now
June 22, 2017
Your first year of uni is a big year for 'firsts'. It might be the first time you move out of home and the first time you start paying for bills (not all the firsts are fun). At some point in your degree there'll be a time where you actually feel like a proper adult, usually due to a few defining first-time moments. If you've experienced any (or all) of these, chances are you've made it to adulthood.
When your parents stop needing to know where you are 24/7
It's a constant source of frustration and even embarrassment in your teenage years. When you live at home, you receive almost daily messages asking where you are, if you'll be home for dinner and what time you'll be home. Sometimes you just honestly don't know. But obvs that's not a good enough answer. If you come home late without a message, you'll be facing a lecture from your parents about how they were "worried sick". While their heart is in the right place, it can be overbearing at times.
Fast forward to the moment where you move out or go on exchange for the first time. Sure, they'll want you to call home on the occasion, but suddenly they're not so concerned about where you are all the time. You can go home whenever you feel like and not have to worry or let anyone know. It's a liberating experience.
When Ikea actually becomes a fun experience
Remember when you were a kid and your parents would take you to a furniture store? Or to check out homewares or carpet samples? Even if you had siblings with you, this experience was boring AF for any child. My how things have changed. The feelign we get about going to IKEA is similar to how we felt about going to a toy store as a kid. Pure bliss. When house decoration or even just household essentials become exciting, you know you've entered the adult realm.
When you're referred to by children as "lady" or "man"
This will shock you the most. One day, you'll be minding your own business at work or on public transport when a kid refers to as "the lady" or "the man". While you're still referring to people your age as girls and boys, little kids see you as a total grown-up. Even weirder is when the parents refer to you in these adult terms when they're talking to the kids. You may not be ready, or you may not even believe it, but here you are, clearly an adult.
When you start buying alcohol because you enjoy it (not just to binge-drink)
It's not the ability to buy alcohol that makes you feel most like an adult, but the feeling of buying a bottle of wine or a six-pack of beer because you enjoy it. The fact that it might even last you a week is also a big adult step. When you first turn 18, the chance of a litre bottle of vodka lasting you more than two nights out is slim. And instead of going for the cheapest you can find, you actually pay just a bit more for something that's actually going to taste nice. Swapped a $20 fruity goon bag for a $20 bottle of Pinot Gris? That's when you know.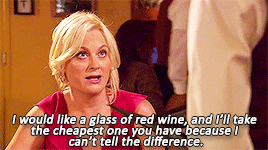 When household items break, you actually know what to do
When you're living with your parents, a broken fridge or air conditioner was your parent's responsibility. And your oblivious teenage self would have had no clue if the washing machine or dryer broke because you would have never used it. You might not be happy about it, but now the responsibility falls on you. When you do come across the terrible disaster of expensive things breaking, you know exactly what to Google and who to call. Paying hundreds of dollars for something that is absolutely no fun at all? That's #adulting.