Five signs you're a Type A student
May 23, 2017
Competitive, self-critical and ambitious, Type A students get the most work done and experience the most stress. Although you've all heard university students love to procrastinate and Ps get degrees, Type As hate time wasting and have perfectionist tendencies, making them stand out slightly from the university student archetype.
There is probably one, hiding silently in the dark corners of your tutorial room, who somewhat enjoy plotting their essay topics weeks before the due date and others who even purchased the textbook more than a week before the exam. Sound like you? Type As are a silent minority, often unheard of in typical university tales, but we exist… and we're almost definitely stressed.
Type A students have at least three organisation systems at once
Diary laying out your assessment due dates, work timetable and extracurricular plans? Check.
Virtual timetable of all your classes on every device you own? Check (and extra points if its printed out and/or colour-coded).
To-do list with a check list of every minor detail of your life included? Check.
Detailed shopping list including the average price to work out this week's budget? Check.
Checklist for all the organisational strategies you have going at once? Check.
Procrastination works slightly differently in your world
Admittedly, even the strongest willed will veer into a YouTube binge every now and then. However, procrastination often comes in a very neat package for those with a perfectionist streak. A typical Type A trait is hating time wasting, so even procrastination has to accomplish something.
Writing a list about all you have to do in the next week definitely takes up some time, but it's definitely vital to do when you lose concentration half way through a study sesh. How about we take up meal prepping when we need to be planning our actual assessments? Or design our title page in the same amount of time it takes to actually write the assignment? Taking the cake will always be procrastinating 60 per cent assignments by completing with huge detail that mini essay worth 10 per cent. Procrastinating from an assessment with a less important assessment? It's the lazy, perfectionist way.
Have you started yet?
While many students feel relief when their peers haven't started, Type As get secondhand stress, especially when talking about group assignments. While we probably freaked out last week and finished the assignment off well before necessary to avoid inevitable stress, we'll probably end up feeling the effects anyway as our friends have actual social lives instead of doing work. The Type A competitive streak in us does get a kick out of getting things done before everybody else though.
Ps get degrees and Cs get a response of "I'm not overly stressed by this, this is OK too."
University isn't all about grades and getting a job has to do with so much more than your academic transcript. Other students will think you're a genius for getting a credit while cramming (hint: you absolutely did not cram). But man, that big old D at the bottom of your final essay sure feels good. Let's just forget about the two minor breakdowns that occurred in the writing process, so worth it!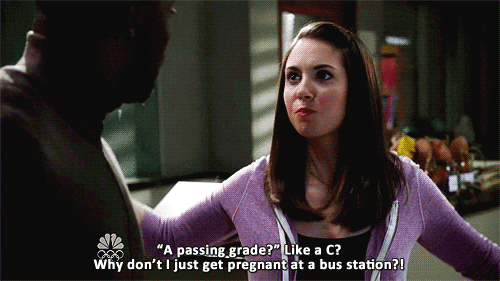 We would probably be better off not striving for perfection
Perfection is impossible. We tear ourselves apart striving for a feat that will rarely, if ever be accomplished. While perfectionism can be a positive trait and lead to more opportunities, make sure you're not allowing yourself to be self-destructive in your competitive, perfectionist efforts.
Aim for excellence, but don't be overly self-critical or beat yourself up if you don't quite make it to where you want to be. You might get there next time, or that particular area may just not be for you. Listen to your family, friends and tutors – they probably think you're doing great. Take in as much external positive affirmation as you can to balance out the negative thoughts you may be placing on yourself. Finish your assessment as early as you want, but once you're done, close your laptop and let your hard work speak for itself, no matter what letter you get at the end of the day.
Jessamy Tredinnick
Jessamy is a QUT Bachelor of Journalism (advertising major) student. She is partial to cats, artsy-fartsy films, travelling, bubble baths, autobiographies and mulled wine.
Image: Giphy