Five proper #adulting weekend activities
May 19, 2017
It felt like high school graduation was only yesterday, yet somehow we've been rapidly transported to our latter years of uni in a flash. And sadly, we're growing up more and more each day. On the weekend, I still sometimes play a good game of Sims 3 if I have a spare moment (or four hours – those houses don't build themselves) as well as watching SpongeBob SquarePants when babysitting and making fairy bread as a snack… and this is when the kids are already asleep.
Being stuck in old teen habits (or in my case kid habits) isn't a bad thing – but it's always good to start experimenting with this thing they call "adult activities" on your weekends. And hey, most of these aren't half bad.
Host a cheese and wine night at your place
It's basically a fancy version of pre-drinks before going out clubbing with mates. Get the gang over and have some antipasto, some drinks (maybe even cocktails if it's payday and you're feeling generous) with some trivia or Cards Against Humanity. Yes, grown-ups play card games too (but theirs don't involve shots).
Art gallery exhibitions and film festivals
The good thing about these events is that they're usually free, so it's great for students and even better for art students. The art and film hub has so much to offer in terms of expanding your creativity, imagination and broadening your horizons. And there's usually a bar, which is a bonus. You can make a day or a night out of it with a group of friends, get glammed up and feel very grown up while stroking your chin, pondering artworks with major intrigue.
Take a cooking class
Learning how to cook is a vital life lesson, as well as different methods of cooking. There will be moments when you realise you want to be super healthy, especially when you're a full-time legit adult. Learning how to cook simple, delicious and healthy recipes will hopefully mean you're carrying a little more cash in your pocket than those who eat out regularly. Cooking is a money-saver and you if you start now, you can start to develop a good daily habit. You can learn to finally make those lemon tarts you're obsessed with or Spag-Bol for those who are beginners... You know who you are.
Wine tasting
Sounds snobby, but it's actually a whole lot of fun. Take a day trip with your pals to a winery, or there might be cellar doors in your area that are closer to home. It's literally for anyone over 18 to go out for a day of eating and drinking with random grown-ups that will talk about their children who are probably your age. If you feel like you would be bored out of your brains learning about the "zesty, fruity aromas and herbal notes" in different kinds of wine, well then just keep tasting it. Going with a group of friends is the way to go and it's a good excuse for a mini road trip (with a designated driver).
Spa day
They can be expensive, but why not splurge a little and treat yourself. Book in advance a day with a friend to get the whole package, because why not? (Savings, be quiet). Manicures, pedicures, facials and messages – this will surely take away all that group assignment stress.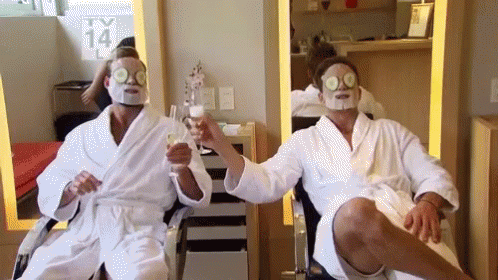 Adult activities can sound like a bore and there's no rush to be a grown up, but there's also no harm in trying out new things that you could possibly be dragged along to one day. Go out and see what all the fuss is about and you may even enjoy it. Just go along with it when a tipsy 55-year-old woman named Martha talks about her five dogs for 10 minutes at wine tasting.
Claudia Siron
Claudia studies Media Arts and Production at the University of Technology, Sydney, is a major film and television fan and her favourite director is Quentin Tarantino.