Five movie characters all uni students can totally relate to RN
May 04, 2017
It's that time of year again. We're passed the middle of semester and now we're all dreading those last couple of assignments and exams. The only thing getting us through is looking forward to that mid-year Contiki tour or finally binge-watching Thirteen Reasons Why without feeling guilty.
It's almost like we have five different personalities that get us through each day at uni or work. Personally, I've noticed that I can relate to five specific movie characters almost every day while I desperately save for Europe and complete each and every uni assignment and reading.
Shaun from Shaun of the Dead
This is the feeling we have when we wake up and when we go to sleep. Tired, in a bit of a rut and perhaps even zombified. Shaun has no direction in life, and although that may not be the case for all of us uni folk, the behavioural similarities are striking.
Shaun is stuck in a routine where he wakes up, plays video games, works at the store and then goes to the same pub. Our daily routines may differ to Shaun's, but we all probably feel like we are in some sort of a rut with work, uni and internships. Some de-zombification techniques are picking up new hobbies or mixing things up like going to the gym in the morning instead of night, so each day is a little different to the last.
Amy from Trainwreck
Saturday nights are our best friends (unless you work the late night shift at Woollies). But when we're constantly going out with mates, drinking (a little too much) and having the occasional one night stand, we do sometimes feel like trainwrecks. Yep, don't deny it. It's a weekly ritual in uni life to have a night out drinking, but it really doesn't feel great the next morning when it was one too many – which we can all probably relate to.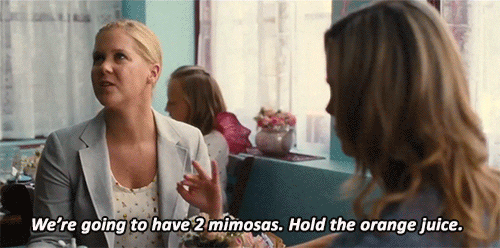 Amy from Bad Moms
Poor Mila Kunis, trying to fit way too much into one day – it's exhausting just to watch. Most of her stress is coming from trying to please everybody. For us, that could be trying to please friends and parents by fitting them into social time amongst our busy uni and work commitments. But what about pleasing ourselves? It sounds hilariously unrealistic when we have two jobs and three assignments due by end of week, but if you don't have any 'me-time' then your nervous breakdown will also be due by the end of week.
Ben from The Intern
If you're undergoing an internship right now, you will understand the feels of long commutes, free labour and the feeling of under-appreciation. Robert De Nero's character Ben is actually in love with the idea of taking on an internship to spice up his life as a retiree – and yes taking on an internship can be great. However, he also knows the struggle of being left out at the office, completing petty tasks, feeling unnoticed and a little useless. But, it's good to make the most of it – seize the moment take on all the opportunities you can and make it as fun as possible for yourself, especially if it's a compulsory uni subject. Be like Ben and show everyone what you're made of!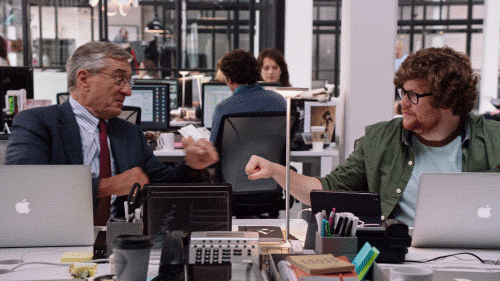 Emily from The Devil Wears Prada
It's no secret we feel the fury when we're in bad group assignments or when we're training a new kid at work who really doesn't know their shit. And if you're like me, you sort of lose it. Emily is the feistiest, sassiest and downright bluntest character on Hollywood screens. Basically, she's a bitch, and we all have our 'Emily' moments. Uni group assignments are one of the best examples – if you're left in charge of five people's work plus your own, it's stressful and action has to be taken, even if that means sometimes lashing out.
But whether we are feeling unappreciated in our internship, like a trainwreck most Saturday nights (and some week nights), or even stuck in a bit of a rut – we also have another thing in common… mid-year break is on the way!
Claudia Siron
Claudia studies Media Arts and Production at the University of Technology, Sydney, is a major film and television fan and her favourite director is Quentin Tarantino.
Image: The Devil Wears Prada